Melksham Oak school opens to pupils for first time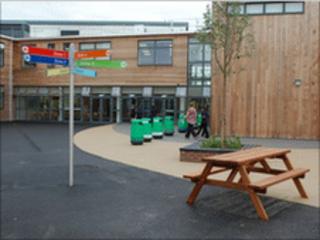 Wiltshire's newest school has opened its doors to pupils for the first time.
Melksham Oak Community School was funded under the recently-scrapped Building Schools for the Future scheme.
The £32.6m project at Bowerhill - which took four years to plan and construct - replaces the town's outdated George Ward school.
Head teacher Steve Clark said the school was lucky "just to have got in on time" for government cash to be available.
"I can't imagine what it would be like to be a head teacher and to have put in all the time and effort that this project took, only to have had it pulled away," he said.
The new facility will educate more than 1,300 pupils.
Built on a greenfield site using modern "low-impact" construction techniques, the campus is on the opposite side of Melksham to George Ward, reflecting the area's changing demographics.
It had originally been hoped the work would be completed by January.
The school is a technology college, and will place special emphasis on science, maths, design and computer learning.
"It's a very different environment and everyone's really excited," said Mr Clark.
"I'm looking at the smiles on the pupils faces and that is making the day for me."