UK police response to organised crime attacked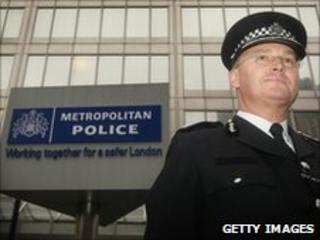 Britain's top police officer says the response to organised crime has been "uncoordinated" and "inadequate".
Metropolitan Police Commissioner Sir Paul Stephenson said there were 6,000 organised groups, comprising 38,000 criminals.
He warned cuts and elected police chiefs could further erode the capability to target these groups.
In a police lecture, he compared the poor record on organised crime to good progress made in countering terrorism.
Speaking at the annual Police Foundation lecture, Sir Paul said organised crime cost the UK at least £40bn a year but combating it was not a priority for chief constables.
Only about 11% of organised criminals were being actively targeted, he warned.
He said organised groups were not just involved in old forms of criminality, such as armed robbery, but in "new theatres of operation" such as scams using the internet.
"We are living in an era where international crime can be orchestrated and organised from a laptop in a teenager's bedroom," he said.
And through new technologies and organisation, individuals and organised crime groups are able, more than ever before, to impact disproportionately on the wellbeing and security of our country.
Sir Paul said he wrote a paper in 2003 which concluded the UK's response to organised crime was "not fit for purpose" and that progress since then had simply not been good enough.
"Those specialist resources devoted by the police service to addressing this threat are uncoordinated and, in effect, inadequate and have been for many years.
"It is important that I stress that I am talking about the gap that exists outwith the effective operational remit of the Serious Organised Crime Agency (Soca) - a gap located within policing and police forces."
Reforms and cuts
Sir Paul's lecture in central London to the criminal justice research organisation comes as police chiefs remain nervous about the coalition government's plans for cuts and reforms to how police are governed.
Ministers want to create elected police chiefs, something that has concerned many chief constables who fear losing operational independence to a politician.
"In these times of diminishing financial resources, I wonder how many chief constables across the country are going to be able and willing to balance the very proper desire and requirement for local community policing, with the challenge of maintaining at least existing capability to deal with the high end but often less obvious demands of serious organised crime," he said.
"And is the situation about to get even more complex? Will the new accountability and governance model for police forces, incorporating locally elected local individuals, lead to the unintended consequence of further eroding existing limited organised crime capability?"
Regional collaboration
Sir Paul said despite the failure five years ago to merge smaller forces, a move partly driven by the need to improve the fight against organised criminals, police chiefs had to think again about how they were approaching the challenge.
He said forces should look at the positive lessons of the fight against terrorism, where all operations across the UK are now co-ordinated by a single senior police officer.
Such a role could be created within the Serious Organised Crime Agency which had until now focused on the most extreme end of the problem.
But he rejected creating a British FBI, saying the lesson from America was it could be quickly "dislocated" from local officers and their street intelligence.