London bike hire station High Court bid rejected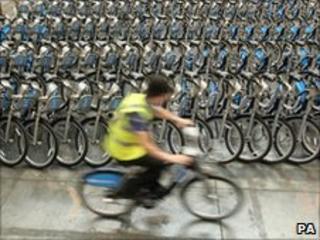 The High Court has rejected a bid by a London resident to bring about a legal challenge to prevent a docking station for the city's bicycle rental scheme being built near his home.
Noel Carroll, from Mayfair, central London, wanted to challenge a decision to locate it on South Audley Street.
But a High Court judge said the grounds raised were "not arguable".
About 400 docking stations are being positioned across London, with 6,000 bikes available for hire from 30 July.
Mr Carroll, 63, and other Mayfair residents accused Westminster City Council of unlawfully failing to take into account the environmental damage the scheme would cause through increased noise, disturbance and traffic congestion.
Appeal considered
The 98ft (30m) station is to be created in a conservation area containing several listed buildings, including the private club Harry's Bar.
Deputy High Court Judge Michael Supperstone QC said: "None of the grounds put forward are arguable and permission to apply for judicial review is refused."
After the ruling, Mr Carroll's lawyer, David Cooper, said: "We are disappointed, surprised and considering an appeal to the Court of Appeal."
Lawyers for the council and Transport for London argued that all the necessary information was available and taken into account when planning permission was granted.
They said the decision was not open to legal challenge.
The docking station in South Audley Street is due to be installed this week.
People will be able to access the bikes in nine boroughs and several Royal Parks.