Store gunman denies murdering girlfriend in Canterbury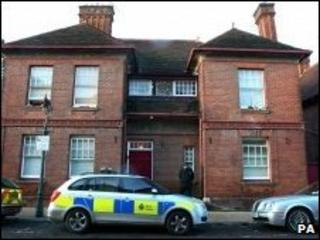 An unemployed man strangled his girlfriend, leaving her body in a Kent bedsit, then went into a supermarket brandishing a gun, a court has heard.
Lithuanian Tomas Uptas, 32, threatened members of the public at Morrisons in Canterbury before being shot by police, Maidstone Crown Court was told.
At one point he pointed a gun at a 12-year-old girl and police had no choice but to shoot, jurors heard.
Mr Uptas denies murdering 46-year-old Loreta Raupiene, also from Lithuania.
Prosecutor Oliver Saxby said police had received reports that a man with a handgun was terrorising members of the public in the Wincheap store on the evening of 26 November last year.
As well as pointing the gun at the girl, he effectively held up a car being driven by a mother with her young children.
"Plainly a potentially dangerous situation was developing," said Mr Saxby.
Outstretched arm
He said armed officers found Mr Uptas sitting in an aisle of the store with a wine bottle in one hand and the gun in the other.
When they shouted at him to put the gun down he refused, pointing it directly at them.
Jurors were told the officers shot the gunman in his outstretched arm.
He was given emergency first aid at the scene before being taken to hospital.
Mr Uptas gave police his address, a bedsit in Victoria Road, which they attended and found the body of Ms Raupiene.
The court heard the couple had only been together a few months but the relationship had been suffering for some time.
Neither had a job and they would often argue about their money worries, with Mr Uptas also becoming increasingly jealous and possessive of his girlfriend.
She had wanted to leave him but he had told her that if he could not have her, no one else would, jurors heard.
Mr Saxby said Mr Uptas was "prone to outbursts of violence when drunk" and had previously threatened to kill Ms Raupiene.
The court was told Ms Raupiene came to the UK to join her estranged husband but began a relationship with Mr Uptas when they worked together at a hutch-making company.
He later moved into her bedsit but both later lost their jobs.
Their arguments intensified and on one occasion friends had to intervene when Mr Uptas grabbed Ms Raupiene's throat during a drunken argument.
On the day she died she texted a friend to ask for help as she said she wanted to leave Uptas but was penniless.
Mr Saxby said forensic evidence showed that fibres taken from the ligature marks on Ms Raupiene's neck matched her own red scarf.
Mr Uptas has previously pleaded guilty to possessing a BB firearm with intent to cause fear of violence and attempted false imprisonment.
The trial continues.