Beach stream sewage leak repaired at Aberporth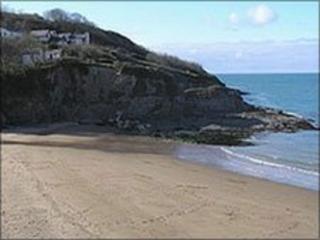 The source of a sewage spill into a stream at a beach has been fixed.
The Environment Agency said the stream at Aberporth was running clear but signs advising swimmers not to go into the water would remain for now.
It said further samples from the sea were needed to establish the impact on the quality of bathing water.
The sewage leak has been traced back to a blocked private sewer and the agency said it would ensure work was carried out to avoid a repeat.
Environment Agency Wales said the source of the pollution was repaired on Friday and no further discharge had been detected.
It said sewage fungus may be visible on the stream bed but the water was now returning to normal.
Once the results of new water quality tests are known they will be sent to Ceredigion council who will decide whether to remove the warning signs and declare the water safe.
An agency spokesperson said: "We have been out over the weekend to make sure it was ok and the stream has improved a lot since Friday.
"We are now going to be sampling the water quality and pass results on.
"Our priority now is to make sure the owners of the sewer carry out any work that needs to be done so this doesn't happen again.
"The Ceredigion coastline is an integral part of the economy and we will do all we can to protect it."