Bangladesh charges 824 people over deadly mutiny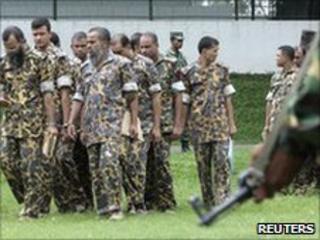 Prosecutors in Bangladesh have charged 824 people with the killing of dozens of army officers during last year's mutiny at barracks in Dhaka.
Most of the accused were members of a paramilitary border force who rebelled over pay and conditions.
All of the suspects could face the death penalty if found guilty.
Officials say that 74 people, most of them senior army officers, were killed during the two-day rebellion in the capital in February 2009.
The violence had also spread nationwide and Bangladesh appeared to be on the brink of civil war.
Military courts
On Monday, state prosecutors said 824 people - 801 Bangladesh Rifles (BDR) soldiers and 23 civilians - had been charged with murder, conspiracy, aiding and abetting murder, looting military weapons and arson.
The case will be handled by Bangladesh's civil courts in what will be the largest trial in the country's history.
In parallel prosecutions, some 3,500 soldiers who had joined the rebellion are being tried in military courts on lesser charges.
At least 200 guards have already been convicted by the tribunals with jail sentences ranging from four months to seven years.
The mutiny erupted at the BDR headquarters in Dhaka and lasted 33 hours, during which officers were killed and their bodies dumped in sewers and shallow graves.
The mutiny took place just two months after the country returned to civilian rule under Prime Minister Sheikh Hasina.
She had originally offered an amnesty to some mutineers but this was rescinded when the extent and nature of the bloodshed became clear.