Tewkesbury kerbside recycling boxes can take more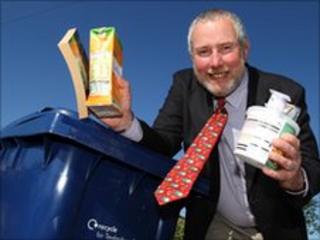 Kerbside recycling in Tewkesbury has been extended to include the collection of plastic pots and trays, drinks cartons and paperback books.
The borough council said it was the first in the county to introduce additional recycling services.
Most authorities only collect cardboard, paper, glass, cans and in some cases, plastic bottles.
Biscuit tins, greetings cards and wrapping paper can also now be recycled using the blue bin.
The council said since April residents have achieved a recycling rate of 59%, which is a "dramatic improvement" from the borough's previous highest rate of 33%.
Councillor Jim Mason said "Our new recycling and waste service has had a very strong start and expanding the service means that this can only get better."