Cornish students win European-wide computer competition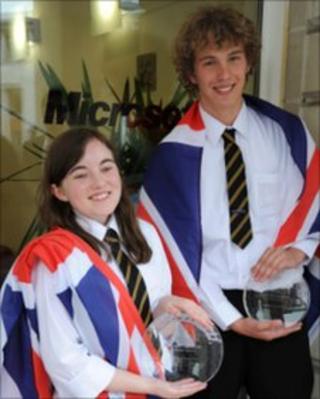 Two students from Cornwall have become European computer champions.
Samantha Wills, 15, and Nathaniel Fox, 14, from Hayle Community School, beat competitors from across Europe in the Microsoft Office competition.
The students scored 100% in exams in Microsoft Word and Excel after spending their lunchtimes and evenings studying.
Samantha and Nathaniel will travel to Utah in August to represent Europe at the World Championships.
Head teacher Chris Jackman said: "It is absolutely fantastic for Nathaniel and Sam, I am delighted for them both.
"They showed great determination and astounded others with the speed with which they completed the online exam where they both scored 100%.
"Over 100,000 students compete so getting to Utah is a massive achievement for our pupils."
Samantha said: "I am ecstatic about winning the competition and can't wait to compete with the other countries in Utah in a few weeks time".
The students secured their places in the world finals after scoring 100% at the UK competition and then the European finals.
Kevin Ryan, from Prodigy Learning which manages the UK competition, said: "One country coming back from Madrid with both gold medals simply wasn't expected".
More than 100,000 students from 70 countries around the world compete in the annual competition.