Playboy founder Hefner offers to buy remaining stock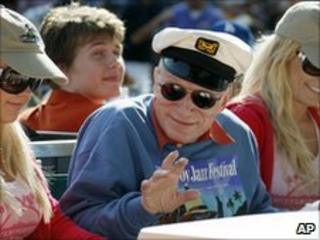 Playboy has said that its founder Hugh Hefner has made an offer to buy out the remaining listed shares in the troubled US adult entertainment company.
Mr Hefner's bid to take Playboy private values the company at $185m (£123m), and sent its shares up more than 30%.
Mr Hefner's offer letter said he had no plans to sell Playboy, the firm said.
Mr Hefner, 84, founded Playboy in 1953 but, despite its famous brand, the firm has struggled with falling advertising revenues.
It has also seen readership of its flagship magazine dwindle as adult entertainment becomes ever more widely available on the internet.
As a result, Playboy said last year it would be open to discussions about an outright sale of the company.
Mr Hefner, well known for his fondness for silk pyjamas and younger girlfriends, is still closely involved with the company and is editor-in-chief of Playboy magazine.
The company said he had had discussions with private equity firm Rizvi Traverse Management over financing the possible buy-out.
It said that its board of directors had made no decisions about any response to the proposed offer.