Bill Shaw reunited with family after Afghan jail ordeal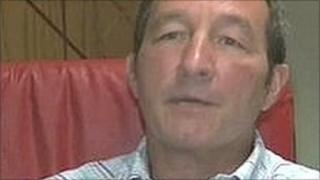 A former British Army officer who was released from an Afghan jail after being acquitted of bribery has been reunited with his family in Dubai.
Bill Shaw, 52, from Leeds, joined his family on Sunday and is expected to return to the UK this week.
Mr Shaw told BBC South East he had to wear chains, his hair was shaved off, and threats were made against his life.
His daughter, Lisa Lucklyn-Malone, from Kent, campaigned for his release along with Dover MP Charlie Elphicke.
Mr Shaw said he was held in three prisons - one of the jails was designed for 150 detainees but held 550.
He said: "On walking in, and them closing the gate behind me, there was just a sea of bodies in the corridors, because that's the only place they can sleep.
"In my cell, there were 17 of us, 10 in bunk beds as you can only describe, metal beds screwed to the wall and seven of us on the floor.
"My first night was spent on the floor fully-dressed because I didn't have anything with me. I only had what I arrived with."
He said conditions in the jail were very poor, especially the sanitation.
He said: "There was a total of 12 toilets for everybody and a total of 12 sinks and six showers.
"On arrival there that was very very difficult indeed because they handed me over and then left.
"Then when they handed me over, I was taken down to the cells and everything that I possessed was taken off me.
"They let me keep my comb and a pair of socks and a pair of underpants and that was it."
He added: "Everywhere you go to the exercise yard to the shower room or down for a shave, you're given leg chains, stomach chains and your hands are put in handcuffs and locked to the front of the stomach chain.
"There's absolutely minimum movement."
Impounded vehicles
Mr Shaw had been found guilty of bribing officials in March but the charges against him were dropped by an Afghan appeal court because of lack of evidence.
At the time, he was manager of a security firm providing protection to foreigners. He always maintained his innocence.
At his trial in March at Afghanistan's newly established anti-corruption court, Mr Shaw admitted having paid for the release of two impounded vehicles but insisted he had thought it was a legitimate fine.
He was jailed for two years and fined £16,185. Afghan officials who took the money have since disappeared.
Mr Shaw, who served for 28 years in the British army and became an MBE for his service, was held in Kabul's Pul-e-Charkhi prison, alongside inmates from the Taliban and al-Qaeda.