Man jailed for stabbing footballer Calum Davenport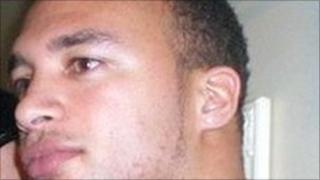 A man has been jailed for six years for a knife attack on a Premier League footballer at his mother's home in Bedfordshire.
Worrell Whitehurst, from Derby, stabbed former West Ham player Calum Davenport repeatedly in the legs in Bedford last August, Luton Crown Court heard.
The 27-year-old had admitted causing grievous bodily harm with intent.
Whitehurst also admitted a charge of unlawfully wounding Mr Davenport's mother, Kim Stupple.
The court heard Whitehurst attacked the 27-year-old player on 22 August after Mr Davenport insulted him during an argument with his sister Cara Davenport, Whitehurst's girlfriend.
Earlier this month Mr Davenport was cleared of head-butting his sister during the argument in which he allegedly called her a "form of cancer".
It was claimed he had attacked his 28-year-old sister, who was pregnant at the time, after hearing that she was carrying her second child.
Mr Davenport was acquitted of one charge of actual bodily harm at Luton Crown Court.
On Monday Judge Michael Kay said the behaviour of both Mr Davenport and his father Curtis Davenport, who was also involved in the argument, was "deplorable".
He said: "Yet again, sadly, a footballer is involved in activity which shows that he does not begin to understand that his privileged life ought to be accompanied by some appreciation of the fact that he is a role model for young people and ought to behave appropriately."
When Whitehurst returned home and saw a mark on his girlfriend's face, he armed himself with a kitchen knife, saying: "I'm going to make sure he (Mr Davenport) doesn't play football again."
Prosecutor Natalie Carter said Whitehurst attacked the footballer, injuring his mother in the process.
She told the court Mr Davenport was stabbed about eight times in the legs.
He lost half of the blood in his body and spent two days in intensive care, followed by a further month in hospital.
The court heard he had recovered now and was back in training.
Mr Davenport's contract with West Ham was terminated in March.