Calling time: Book celebrates Wales' historic pubs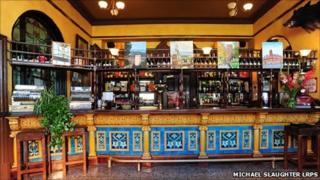 For sale signs on pubs are becoming a more familiar sight. It is estimated that across Wales, four or five pubs a week suffer a similar fate.
In Cardiff, the curtain has come down on almost 200 years of merriment at the Cow and Snuffers pub in Llandaff, Cardiff.
Opened in 1812, when Llandaff was a village distinct from the city of Cardiff, The Cow and Snuffers has enjoyed a remarkable history.
Its name is thought to derive from the Irish ancestry of the man who built it, Sir Robert Lynche-Blosse. Far from the English meaning, it seems as though it came from the Irish phrase, "An cu Ar Sndmh", meaning "The Swimming Dog.
Benjamin Disraeli is reputed to have drunk there in the late 1830s, before he became prime minister, while courting his soon-to-be wife Mary Ann Lewis, from Tongwynlais.
A bust of him below the main window marks his fabled visit.
The pub had been up for sale for some time for £265,000 and it will now go to auction next month with a lower guide price.
'Through the door'
It may have fallen victim to the demise of the British pub. But there are those fighting back.
Mick Slaughter in conjunction with the Campaign For Real Ale (Camra)'s pub heritage group aims to protect the best examples of historic pubs.
He has now documented his findings across Wales - and photographs - in a new book, Real Heritage Pubs of Wales, written with Mike Dunn.
"I do my best to draw attention to the pubs around Wales which we really can't afford to lose, for a whole range of cultural, historical and social reasons," he said.
"If I can publicise their significance then I've found we can get [Welsh heritage agency] Cadw interested in listing them as historic monuments, but a bigger aim of the book is to get people visiting them."
"Any pub, no matter how culturally important we think it is, needs people coming through the door to make it a success.
"There's lots of people out there who want to visit and learn more about pubs like the ones I've covered, but they just don't know where to look. If the readers have a lovely day out, and the pubs stay in business, then I've done my job."
The 120-page book covers an enormous variety of pubs, the length and breadth of Wales.
Some are significant for their fittings, others for the characters who visited them. A tiny few are included because they are almost entirely unchanged since they first opened their doors.
Cardiff's Golden Cross and The Waterloo in Newport are examples of city-centre pubs which have had to move with the times, but have still retained part of their original Edwardian splendour.
The Golden Cross was saved from closure and redevelopment more than 30 years ago and restored to its former glory, with its ceramic tiles a feature throughout. The Waterloo is now a restaurant and bistro, but still attracts callers to look at its original features.
"In both the Golden Cross and the Waterloo you can see examples of the heyday of the pub," says Mr Slaughter.
"In the Edwardian era the pub and the cinema were the main places for a night out, and people expected to be entertained with interesting scenery.
"Hence you get the amazing tiling and ceramic bar tops, with pictures telling the story of the locality, like the Golden Cross's showing Cardiff Castle. The bars in these pubs are two of just 20 or so examples remaining across the UK."
The Dyffryn Arms at Pontfaen, Pembrokeshire, is one of Mr Slaughter's favourites, as it is largely unchanged throughout its life, having remained in the same family since opening in 1845.
It is nicknamed Bessie's after a landlady, who recently celebrated her 80th birthday and is still working there. There is no bar as such: Customers are served through a hatch from the cellar and it is one of only two pubs in Wales still serving beer from jugs filled directly from casks.
"The Dyffryn Arms has somehow managed to keep all its original features despite having no listing or protection whatsoever," said Mr Slaughter.
Camra's pub heritage group wants to encourage pub owners to take account of their historic features, when making changes.
'Really remarkable'
But a pub doesn't have to be hundreds of years old or boast breathtaking architecture in order to be culturally significant.
The Pen-y Gwryd Hotel in Snowdonia makes it into his selection on the strength of a former patron.
While training for their famous assault on Everest's summit, Sir Edmund Hillary and his team joined the regulars.
Before leaving they signed the ceiling beams, and to this day their signatures are protected behind a glass cover for all to see.
The decor of the Old Vigour, Cemaes Bay in Anglesey only dates back to the 1960s. Pretty unremarkable you might think, until you realise that it is entirely untouched since then, maintaining the original pumps, seats, bar and snugs.
"The Old Vigour is really remarkable. It's like walking into an old Rovers set from an early Coronation Street! It goes to show that pubs don't have to be ancient to become a part of our heritage, they simply have to be an authentic slice of our rich cultural history."