Fewer Scots looking to buy homes, says RICS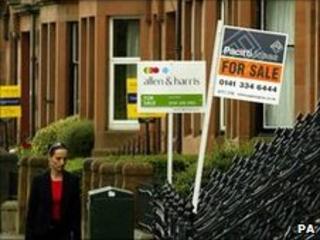 Fewer people are looking to buy houses in Scotland in the wake of the UK government's Budget and looming public service cuts, according to new figures.
The Royal Institution of Chartered Surveyors (RICS) said it had seen the lowest number of new buyer inquiries in Scotland for 22 months.
Surveyors also said there had been a fall in the number of instructions to sell properties.
But the figure for last month was slightly better than for May.
A spokeswoman for the organisation said the fall-out from the Budget, the lack of supply of properties and the lack of liquidity in the mortgage market were all factors in the slowdown.
'Negative territory'
It also said a rise in house prices was another consequence of the lack of supply of homes coming on to the market.
The market recorded its second largest increase this year in the number of chartered surveyors recording a growth in prices.
Last month 50% of surveyors said there had been an increase, compared to 27% in May this year.
RICS spokeswoman, Sarah Speirs, said: "There has been an increase regarding instructions to sell properties but only very marginally and it is still in negative territory with more reporting a fall than a rise.
"With fewer people choosing to put their homes on the market, the demand-supply dynamic has resulted in an increase in price expectations and we expect to see this trend continue over the next couple of months."