Slough councillors meet over park's high lead levels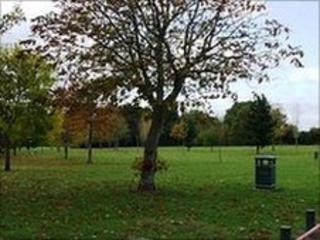 Councillors have met to discuss a plan to tackle high levels of lead, arsenic and benzene found in a Berkshire park.
The contaminated soil was recently discovered across 55 acres of Upton Court Park in Slough during routine ground testing for a new play area.
Work is expected to cost between £130,000 and £2.7m depending on what option is agreed. One option includes fencing off the affected areas.
The council said there were no immediate health hazards.
But it added that there was a potential risk to someone exposed to the soil dust over a long term.
The council plans to apply for a Department for Environment, Food and Rural Affairs (Defra) grant to tackle the problem.
It is thought the levels date back to the 1940s or 1950s and affect two areas of the park in the north-east and north-west corners.
In the north-east corner, known as Bunds, officers have recommended planting dense vegetation across the affected area to ensure long-term human contact with the soil can be prevented.
This would cost an estimated £294,000 over three years.
The north-west area covers a larger area near the car park.
Officers have asked the cabinet to consider a number of options for this area, including hard surface sports facilities such as tennis courts or artificial football pitches, or planting dense vegetation but with paths and trails laid so people could still access the area.
Other suggestions include fencing off the affected area or removing soil and replacing it with fresh soil.
Nigel Dick, assistant director of environmental services and quality at the council, said: "It's not under the soil, it's actually on the surface.
"We think it's some material from an old boiler or an old furnace which has been used to fill in some gaps or an old culvert and it was just spread around.
"In those days (the 1940s and 50s) people didn't really realise some of the consequences of what they might be doing and it's just coming to light now.
"There's no immediate risk and there's no need to close the park.
"It's mainly lead, and the way that this material might harm somebody is if they actually ingested it or ate significant quantities of it over a long period.
"There is always a very slight risk that this could happen and as a responsible land owner the council, now that it knows of the existence of the lead, has to deal with it."