Medal honour for suicide soldier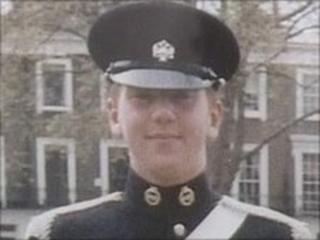 The mother of a soldier, whose inquest ruled he killed himself in Bosnia 14 years ago, has accepted a medal in his name.
For more than 10 years Trooper Aled Jones's mother, Elaine Higgins, from Barrow-in-Furness, Cumbria, fought against the suicide verdict.
But she ended her campaign last year and successfully applied for the Elizabeth Cross in his name.
She was presented with the medal at Dorset's Bovington Tank Museum.
Mrs Higgins said: "It's a huge honour to be here, to actually pick up the medal."
Tpr Jones's name was also added to a memorial at Bovington where he spent time during his training.
His mother said: "I have mixed emotions, but I am so proud that they have honoured Aled with the medal.
"It is an emotional day but a happy one too."
The Elizabeth Cross is given to the the next of kin of service personnel who were killed in action.
Tpr Jones, 18, of The Queen's Dragoon Guards, was found dead with a single gunshot to his head during a tour of Bosnia in 1996 - less than two years after he joined the Army.
Six months later a coroner recorded a verdict of suicide - prompting Mrs Higgins to call for a new inquest.
But without new evidence she could not put a case to the High Court.
"I will never ever believe what I was told how Aled was killed," she said.
"I fought for 10 years, I had a solicitor in London, we got a barrister but last year I made the decision I couldn't go any further.
"Aled needed to be laid to rest... so I said I will not fight for answers anymore.
"But the book is never closed, if anyone tells me anything different or about anything untoward that happened then the book opens again and I will carry on fighting."