Penhallow Hotel fire memorial stone unveiled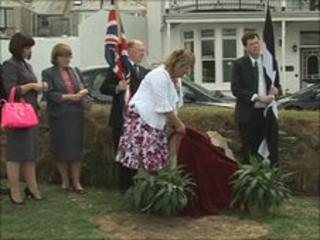 A stone has been unveiled in Newquay in memory of three people who died in a hotel fire in 2007.
About 90 guests were rescued from the fire in the Penhallow Hotel.
A service was held on the seafront to unveil the plaque, which was mounted on a slab of granite and placed on a green the hotel overlooked.
As well as remembering those who died, the stone also paid tribute to those who helped in the rescue operation.
Newquay granite
Peter Hughes, 43, his mother, Monica, 86, and Joan Harper, 80, all from Staffordshire, died in the fire.
Newquay town Councillor John Fitter said: "Three people lost their lives and that is a tragic event and we wanted to mark it.
"It was a united effort and volunteers came and serviced the community that night. That's what it's all about, a society coming together."
The memorial stone has been mounted on a piece of granite from Newquay's headland.
Sue Harper, who's aunt Joan Harper died, said: "Things don't ease. The grief carries on, and although it's nice to come down and thank people, it's not been easy."