CCTV released of suspect robber in Liverpool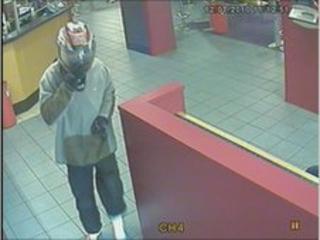 Police have released CCTV images after a bookmakers was held up by a man wielding a handgun in Liverpool.
The armed robber, who was wearing a multi-coloured crash helmet, threatened a female member of staff at William Hill bookmakers in Broadgreen Road at 1100 BST on Monday.
She was forced to give him a small amount of cash before he was picked up by a second man on a red motorbike.
Det Con Andy Bason said: "The victim has been left extremely traumatised."
He believes the robbers drove along Aylsford Road before and after the attack.
"Although the shop was quiet at the time there were lots of people passing by outside and I am sure they must have noticed the second offender sat outside waiting on a red motorbike.
"I am confident someone, whether they be passing on a bus, a passer-by or a motorist will have noticed these two men and I appeal to anyone who saw anything at all suspicious to come forward and tell us," he added.