Prince Charles presents service medals at RNAS Culdrose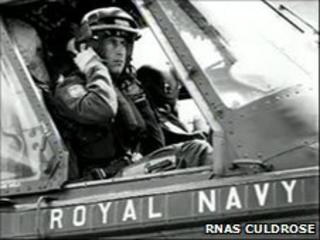 The Duke and Duchess of Cornwall have awarded RNAS Culdrose personnel with service medals as part of a two-day visit to Cornwall.
Air crew and engineers were awarded campaign medals for their involvement in operations in Afghanistan.
Prince Charles was also shown photographs of himself when stationed at RNAS Culdrose in 1975.
As part of the visit, the Royal couple visited St Michael's Mount and Falmouth to watch prospective Olympic sailors.
Talking about the personnel, Cmdr Pat Douglas, from RNAS Culdrose, said: "They are operating day in and day out in Afghanistan, looking for movement on the ground to try and stop insurgents moving themselves, their weapons and drugs around the country."
About 40 Culdrose personnel and three Sea King helicopters operate out of Camp Bastion, the British Army's base in Afghanistan, at any time.
Lt Mark Barber, a Sea King helicopter pilot, said: "Going from embarked operations on aircraft carriers to then go to the desert and a lot more night-flying you've got to be trained in dust take-off and dust landing.
"It's a completely different environment and one you've got to respect."