Lincolnshire firefighters win award for Haiti work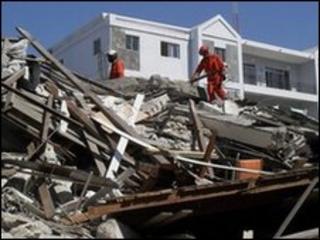 Ten Lincolnshire firefighters have been praised for helping save lives in the aftermath of the Haiti earthquake.
The 10 men - who formed part of the UK's International Search and Rescue team - have been presented with a Lincolnshire Diamond award.
Lincolnshire's Chief Fire Officer Mike Thomas, who led the team, said the award was a tribute to their hard work.
More than 230,000 people died and another 1.5 million survivors were left in camps after the earthquake.
The men searched through the rubble of ruined buildings to rescue victims of the earthquake with the help of their rescue dog Holly.
The Lincolnshire Diamond awards are organised by the Lincolnshire Echo newspaper, the Co-operative and James Usher jewellers in Lincoln.