Llandudno rally death man 'a lifelong fan'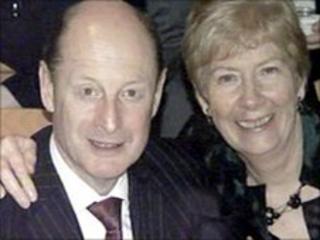 A rally spectator died when he was hit by a competing car which he was filming with his camera, an inquest has heard.
John Phillips, 69, from Llandudno, Conwy county, died when a driver lost control of his vehicle and ploughed into a spectator area.
The life-long motorsport fan was watching the Harry Flatters Rally at Dixies Corner, near Sennybridge, Powys, on 2 August last year.
Welshpool coroner Peter Maddox recorded a verdict of accidental death.
Mr Phillips died after the modified Peugeot 106 vehicle negotiated a jump known as Devil's Leap, the inquest heard.
Pc Ian Pathak, a collision investigator for Dyfed-Powys Police, said most vehicles slowed down before crossing Devil's Leap then accelerated away afterwards.
But the car that crashed did not seem to slow down, he said.
The car became completely airborne, said Pc Pathak, and when it landed it seemed out of control, swerving away from the carriageway and crossing marshland towards the roped-off spectator area.
He said: "It seemed to rock from side to side and parts of the vehicle become detached, including the front and rear bumpers."
When the vehicle was later examined by police they could find no pre-existing defects that could have contributed to the collision, the inquest heard.
Pc Pathak said Mr Phillips did not realise how close the car was to him because he was filming it.
He added: "Footage from witnesses shows Mr Phillips lowered his camera as the rally car closed in.
"It left Mr Phillips with little or no chance to take action."
'Well marshalled'
He was airlifted to the University Hospital of Wales in Cardiff with serious head injuries but later died.
The driver, said at the time to be James Ball, a commercial air pilot in his mid 20s and a member of the south Wales-based Three Counties Car Club, was taken to Prince Charles Hospital in Merthyr Tydfil with minor injuries.
A total of 117 cars were entered in the two-day event on roads around the Sennybridge military training range and the inquest heard the event was well organised and well marshalled.
Spectators were standing 30 metres (98 ft) from the carriageway at Devil's Leap when the car lost control, Welshpool Town Hall heard.
Sgt Sean Westlake, also of Dyfed-Powys Police, told the hearing it was just five seconds between the car crossing the leap and coming to a standstill after hitting Mr Phillips.
Mr Maddox said: "The evidence shows that between the point the Peugeot had become airborne and when it landed back on the carriageway there was a loss of control.
"We can only speculate what the cause of that was.
"It is likely that driver error led to loss of that control."
He said Mr Phillips' death was "unfortunate and tragic" and added: "My sincere sympathies go out to all the family."
'Risks'
In a statement released through police at the time of his death, Mr Phillips' family thanked all the emergency services for doing their best to save his life.
The statement said: "John loved motorsport - it was his life-long hobby. He knew the risks involved.
"This was a very unfortunate accident and the family strongly feel that no blame should be attached to the rally driver involved."