Mourners bid farewell to Dame Beryl Bainbridge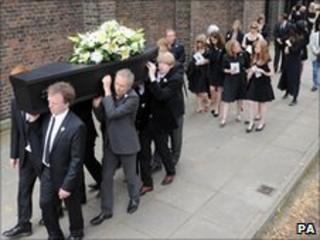 Hundreds of people have gathered to pay tribute to renowned author Dame Beryl Bainbridge at her funeral.
From humble beginnings as a worker in a bottle factory, she went on to become a contemporary of literary greats like Harold Pinter and VS Naipaul.
Broadcasters Sue McGregor, Melvyn Bragg and former hostage Terry Waite were among those who attended the funeral in north London's Kentish Town on Monday.
The Liverpool-born grandmother died at the age of 75 after battling cancer.
Parish priest Father Graeme Rowlands told the congregation how Dame Beryl first found success as a writer when she penned her own experiences in the aptly named The Bottle Factory Outing in 1974.
'Superb granny'
"To the last breath," what mattered to Dame Beryl, who was shortlisted for the Man Booker award five times, was "tolerance, patience and regard for others", Father Rowlands explained.
"All of that she has achieved, along with the devotion of herself to her art," he added.
"In the last five years that's been so much of a struggle for her to achieve but she faced it with courage and determination."
He said: "As a character Beryl was very easy to love. There was no pretence in her dealings with others. She was always herself."
He added: "She was a superb granny. She was a bit in awe of her family for having grown up so sensibly. She loved babies. She talked to babies on the street. On her death bed, when she felt too ill to read, she asked for pictures of babies, any babies, to cheer her up."
Despite receiving the Queen's honours, "none of this went to her head", he said.
She had been working on a new book, The Girl In The Polka-Dot Dress, her first since the 2001 publication of According to Queeney, when she died.
The new novel focused on the assassination of Bobby Kennedy. She had reached page 35.
Her 1989 novel An Awfully Big Adventure was made into a film six years later starring Alan Rickman and Hugh Grant.
She won the Whitbread award for Injury Time in 1977 and, in 1996, for Every Man For Himself - which was also shortlisted for the Booker.
Dame Beryl's children include the actress Rudi Davies, son Aaron, an architect, and Joanna, a midwife and painter.