Infosys suffers 2.4% fall in profits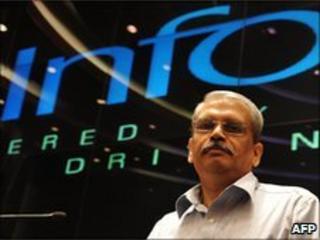 Indian outsourcing giant Infosys has reported 2.4% a fall in profits between April and June.
The firm said it was continuing to see greater demand for its services, despite "uncertain" global conditions.
But its shares fell 2.8% on worries that weak demand in Europe could limit demand.
India's second largest computer group made a net profit of 14.9 billion rupees ($318m; £211m) in the period. Sales were up 13% to 61.98bn rupees.
But sales in Europe only made up about 20% of its revenue, the firm said.
This compared with almost 25% a year ago and 23% in the previous quarter.
"There are still concerns lingering over Europe's debts and if the economy there is weak, consumption should be weak too," said HSBC fund manager Huey Yang.
Investment
Infosys, which is one of India's "big three" outsource firms, said it had added almost 40 new clients to its books, which already include the likes of Goldman Sachs and BT.
And it said demand had prompted it to employ more than 1,000 new staff in the period, taking its workforce to about 115,000.
"While the global economic environment remains uncertain, we continue to see greater demand for services from our clients," the firm's chief executive S. Gopalakrishnan said.
"The challenge for the industry is to enhance the investment to grow the business, given the uncertainty in the environment."