Stoke Heath youth jail's older inmate care criticised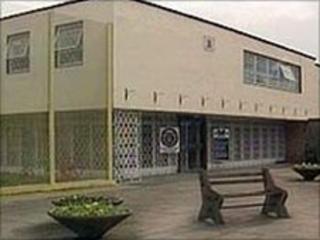 Conditions for older inmates in a young offenders institution in Shropshire have been described as "disappointing" by inspectors.
Stoke Heath YOI in Market Drayton scored poorly in terms of safety, respect, useful activity and resettlement for 18 to 21-year-olds.
The Chief Inspector of Prisons Dame Anne Owers said too little was done to prevent re-offending by this age group.
She said it was typical of the wider neglect of inmates of this age.
Stoke Heath is a split site that holds inmates aged from 15 to 17 on one site and offenders aged 18 to 21 on another.
It is one of only two split sites for young offenders left in the country and currently holds 595 inmates.
Dame Anne said: "This is a disappointing report. Outcomes for young adults at Stoke Heath were not sufficiently good in any of our four key areas: safety, respect, purposeful activity and resettlement."
She said the needs of 18 to 21-year-olds at Stoke Heath were much less well catered for than the 15 to 17-year-olds there.
"This is partly a management issue for Stoke Heath to ensure that opportunities are used effectively and young adults are engaged with and supported.
Dirty accommodation
"But split sites like Stoke Heath also show the relative neglect of this risky and vulnerable group throughout the prison system, compared to the specialist focus on under-18s."
Inspectors said the reception and support of young adults during their first few days in custody was inadequate, a high proportion of them said they had felt unsafe and their accommodation was dirty and uncared for.
They said the institution had improved its segregation unit though, which was well run and offered a good standard of health care, with some high quality mental health provision and good support for inmates' resettlement and substance misuse.
Michael Spurr, chief executive officer of the National Offender Management Service, said he accepted the inspector's assessment of Stoke Heath and would work with the governor and prison staff to address the issues raised.