Bollywood spoofs Osama Bin Laden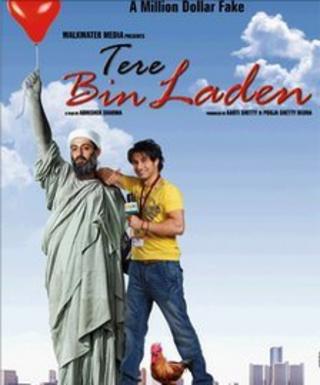 A comedy called Tere Bin Laden (Without You Laden), about a lookalike of Osama Bin Laden, is generating a lot of curiosity among cinema-goers in India.
The film, released on 16 July, is about a struggling Pakistani journalist who tries to sell an interview of a "fake" Bin Laden as a scoop.
In Pakistan the film will be called Tere Bin (Without You) to avoid any controversy, the film-maker says.
Situational comedies are rare in Bollywood, India's Hindi film industry.
Most Indian films are either love stories or action films which do well commercially.
In the last few years, several small budget off-beat films have been made and many have fared well due to the growing "multiplex culture" of the metropolitan cities.
Inspiration
Director of Tere Bin Laden Abhishek Sharma says the idea of "this bizarre film" struck him in "an equally bizarre way".
"One day I had a throbbing headache on my way back from home. So I tied a scarf around my head.
"When I reached home, my wife said I looked like Osama Bin Laden since I also have a beard. It was her remark that got me thinking."
He said that while researching he found fake interviews with Osama: "So I worked the story backwards."
The film's protagonist is a Karachi-based Pakistani journalist who wants to move to the US to fulfil his American dream.
When he comes across a person who looks like Osama, he decides to sell his interview as a scoop to the international media, which results in a series of goof-ups.
Though the film is a comedy, the director says they have been careful about the authenticity of locations in Karachi, facts about Osama Bin Laden and the context of the story.
"It is a farce but rooted in real issues," says Mr Sharma who wrote nearly 10 drafts before finalising the script.
The film took four years to make and has been made on a moderate budget of $2m (£1.32m).
Once the trailers started playing in theatres, some people said the film supported Bin Laden.
But the director dismisses the charge.
Producer Pooja Shetty says: "We made sure every aspect of the film was a spoof and nothing should be construed in any wrong manner.
"We are hoping to make people laugh every five minutes."
Actress Sugandha Garg, who plays the love interest of "fake Osama", says: "There is a lot of intrigue. The position all the characters are in is very funny, so it works."
Film experts say the subject of the film is different and its intriguing name will attract the audiences to the theatre.