Peter Mandelson's memoirs claim woes at Number 10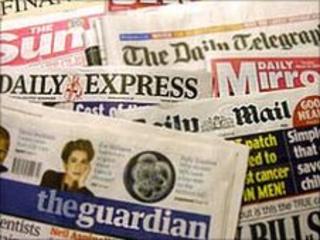 The Times has published the second instalment of Peter Mandelson's memoirs, entitled The Third Man.
It reveals - in the words of the paper's front page headline - "Fear and loathing at Number 10".
According to Mr Mandelson's account, three senior ministers were critical of Prime Minister Gordon Brown in private.
He added some regarded the Labour government as "futile" and "finished", but that they were either unwilling or afraid to try to topple Mr Brown.
'Major surgery'
The government's plans for major changes to the National Health Service (NHS) in England get a sceptical response from the Independent.
It points out the NHS has already undergone radical reform six times during the past 20 years, and asks how much more major surgery can it take?
However, the Daily Mail has come out in support of the government's plans.
It says Health Secretary Andrew Lansley should be applauded for realising the need for a revolution in the NHS.
Gamble?
The Financial Times agrees the health secretary has the right vision, but warns the scale of his ambitions could be his undoing.
The Daily Mirror accuses the government of taking a reckless gamble with the NHS, but the Sun is wholly supportive, calling it quick, bold action.
The Daily Telegraph agreed the government was taking a gamble with the NHS.
It added that truly radical reform of the NHS had been ducked under the plans Mr Lansley has put forward.
BP move
The Financial Times reports BP may be able to write off against tax much of the expense of the continuing oil spill in the Gulf of Mexico.
It says this could save the company £6.7bn, which would represent a drop of more than a quarter in BP's tax payments.
The Guardian reports on the Church of England's decision to start ordaining female bishops by 2014.
It says a fragile peace has emerged between traditionalists and liberals in the Church of England.