Peter Tobin: Search of former home extends to cellar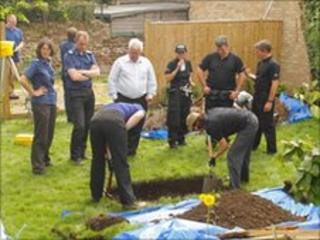 Police searching the gardens of serial killer Peter Tobin's former East Sussex homes have extended their search to the cellar of one of the properties.
Officers began excavating the gardens of homes in Station Road, Portslade, and Marine Parade, Brighton, on Monday.
Police said they were now searching inside the Station Road property for bodies and other evidence.
Tobin, 63, is serving three life sentences for murdering Angelika Kluk, Vicky Hamilton and Dinah McNicol.
Sussex Police said officers also planned to search inside the Marine Parade property later.
They have been using ground-penetrating radar to search for evidence.
Die in jail
Ch Insp Laurence Taylor confirmed officers were looking for bodies but refused to go into details about what cases the searches may be linked to.
He said: "In previous investigations into Tobin, the victims haven't always come from where the bodies are located and for that very reason it would be unfair to speculate on who or what we might find."
He added: "We want to ensure that we have fully investigated both the properties and that we have done all that we can to satisfy ourselves that we have conducted proportionate and necessary searches."
The search is part of a nationwide investigation, dubbed Anagram, to see if Tobin is responsible for further murders.
Police have received 20 calls from the public with information about Tobin and his whereabouts in Brighton during the 1980s.
Up to 20 families have also been contacted by police about the latest search, with some of them appointed family liaison officers.
Police have stressed this does not mean they are looking for 20 bodies, but have contacted families who may be concerned.
Tobin was told last December he would die in jail after he was convicted of strangling 18-year-old Miss McNicol.
The former church handyman was already serving life terms for the murders of Miss Hamilton, 15, and Miss Kluk, 23.