Trouble causes travel disruption in Northern Ireland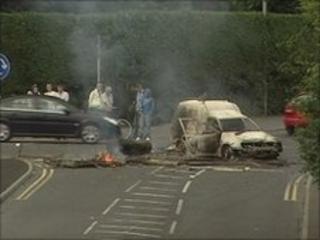 There were also disruptions on the roads and railways during Monday's disturbances.
Cars and a bus were hijacked in Belfast.
And in Lurgan there was an attempt to hijack and burn the Enterprise train. Other train services were also disrupted.
On Monday afternoon, an attempt was made to set fire to a train in Lurgan. The driver managed to get the train away and no passengers were hurt.
John O'Dowd, who is a Sinn Fein MLA for the area, condemned those responsible for the attack.
"They are making the lives of people who live in this area a misery," he said.
"This happened in the middle of a built-up area. If that train had gone on fire, there would have been a major disaster."
Fears of a repeat of the incident meant passengers travelling to Belfast were taken off the Enterprise at Newry.
Among those affected was Shauna Nugent, an American who is working in Belfast. She was travelling back from a business trip to Dublin.
"When I was in Dublin I was having a great time, nobody is like that, what is going on with Northern Ireland?
"Everybody is so nice but when this season comes around it brings the worst out of people and it's just a shame.
"It does not need to go round the world, this place has been through too much, the people have been through too much and it needs to stop."
She criticised the decision to stop the train at Newry and bus the passengers to Belfast.
"I don't understand why the police are not having more control over those railway lines but they're gonna stand around and protect marchers and all of that stuff.
"I just don't understand where their priorities are."
Translink said the railway line remains closed between Lisburn and Portadown following Monday's trouble.
A shuttle bus is transferring passengers between these stations.
Enterprise passengers are being bussed between Newry and Belfast.