Irish woman killed in Uganda bombings is named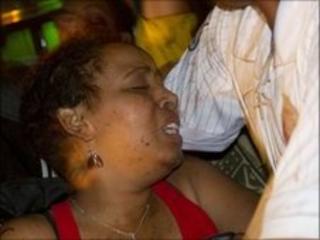 The Irish woman who died in Sunday's bomb blasts in Uganda was Marie Smith from Dublin.
She was a 51-year-old lay missionary who had worked for over 30 years in Africa.
Ms Smyth was among the 74 people killed in two bomb blasts in the Ugandan capital Kampala on Sunday night.
Somali Islamists are being blamed for the attacks, which saw bomb blasts rip through two bars packed with soccer fans watching the World Cup final.
The Somali Islamist group al-Shabab has said it was behind the twin blasts.
Ugandan peacekeepers are in Somalia, and al-Shabab has previously threatened Kampala.
The explosions, which also injured about 70 people, ripped through a rugby club and an Ethiopian restaurant as football fans watched the last few minutes of the World Cup final.
The deadliest of the blasts was at the crowded rugby club. At both locations chairs lay overturned, with blood and body parts on the floor.
A government spokesman said on Monday that at least 60 Ugandans were killed in the explosions.
Unidentified victims
California-based aid group Invisible Children, which helps child soldiers, said one of its workers, Nate Henn, 25, was among those killed at the rugby club.
Officials said the dead and wounded also included Ethiopian, Eritrean, Indian and Congolese nationals.
It is understood that some of the victims have yet to be identified.
Ugandan Internal Affairs Minister Matia Kasaija told the BBC that the severed head of a person from Somalia had been identified at the scene of one blast.
He said Uganda had been aware of the threat, but had been caught off-guard.
About 5,000 African Union troops from Uganda and Burundi are based in Mogadishu, propping up the fragile interim government.
The Amisom force is engaged in frequent firefights with the Islamist insurgents that control much of southern and central Somalia.
Ugandan President Yoweri Museveni criticised the attackers and said his country would not "run away" from its commitments in Mogadishu.
"People who are watching football are not people who should be targeted. If they [attackers] want a fight, they should go and look for soldiers."
US President Barack Obama said the explosions were "deplorable and cowardly".
The African Union has said the attacks will not affect its summit, which is due to be held in Kampala later this month.