Environment Minister visits drought-threat area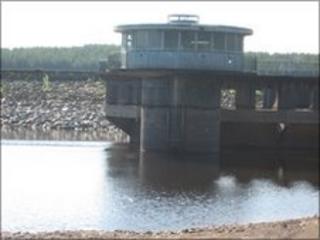 People in Dumfries and Galloway have been urged to use "water wisely" by a Scottish government minister.
Environment Minister Roseanna Cunningham made the plea as she joined Scottish Water staff distributing advice leaflets in Lockerbie.
The company said prolonged periods of low rainfall in the area had affected the Black Esk and Penwhirn reservoirs.
Met Office figures show that the first six months of the year were the driest on record in Scotland since 1941.
Last week Scottish Water applied for a drought order covering Dumfries and Galloway.
If granted it would allow the utilities company to take measures including abstracting water from rivers and pumping it into reservoirs to replenish levels.
Ms Cunningham also visited the Black Esk Reservoir to discuss the situation with water engineers.
The minister said: "Dumfries and Galloway has experienced some of the driest weather recorded in decades and despite the rainfall over the last week, reservoir levels in the area continue to be of concern.
"We are not in a drought situation but the low levels in the reservoirs mean that we need to take proactive steps to manage our water resources for the rest of the summer."
Ms Cunningham said officials were working closely with Scottish Water and the Scottish Environment Protection Agency on the terms of any drought order.
"Members of the public can also help by using water wisely," she said.
"Instead of using a hosepipe to water the garden or clean the car, they could use a watering can or bucket instead.
"By working together we can maintain our supplies and protect the environment."
Scottish Water has said it is working with more than 22,000 households and businesses in the affected area to encourage sensible steps to reduce water consumption and conserve supplies.
The need for a hosepipe ban will be kept under review.