Funeral of soldier killed in Afghanistan canal crash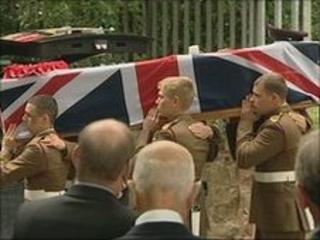 Hundreds of mourners gathered for the funeral of a soldier from Merseyside who was killed when his Land Rover plunged into a canal in Afghanistan.
Pte Douglas Halliday died alongside his 1st Battalion The Mercian Regiment colleagues Pte Alex Isaac and Colour Sgt Martyn Horton, all from Merseyside.
The soldiers, part of a police advisory team, were killed on 23 June.
Some mourners had to stand outside for the service at Holy Cross Church in Woodchurch, Wirral.
Speaking after the service, Pte Halliday's commanding officer, Major Ronnie Goodwin, said the 20-year-old had a bright future.
"He would have been a junior NCO, a senior non-commissioned officer for the future within the regiment," he said.
"And he started to show, in his short time that he served with us, all those attributes."
The Mercian regiment soldiers were travelling with L/Cpl David Ramsden, from 1st Battalion The Yorkshire Regiment, in a Ridgeback vehicle when it left the road near Gereshk, Helmand province.
In a statement released after his death, Pte Halliday's family said: "Dougie was deeply loved by all of his family and friends for the love and laughter that he brought into their lives.
"We are all extremely privileged to have shared his short life.
"We remember Dougie for his charm, the special times together and his humour. He will never be forgotten.
"At this sad time we also send our condolences to the families of his comrades who also gave their lives so that we may live in freedom and all of those that continue to serve."
Pte Halliday, who was from Rock Ferry, was serving in his first tour of Afghanistan helping to train the Afghan National Police.