Oxford's Magdalen Bridge could open on May Day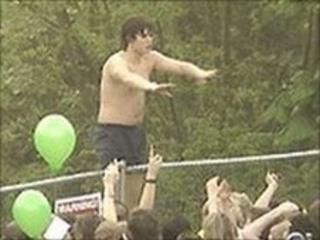 Magdalen Bridge could be kept open during Oxford's May Day celebrations, in future years.
The bridge has been closed on May Day morning since 2005 to prevent people jumping off and into the river.
Oxford City Council is in talks with Oxfordshire County Council and Thames Valley police about arrangements for the traditional celebrations.
In 2005 about 40 people were hurt after they ignored police and jumped into about 2ft of water.
In May this year there were no serious injuries, although 30 people ignored police and jumped from the bridge after it was reopened to pedestrians.
City council leader Bob Price said changes needed to be made "to make May Day feel more like May Day".
He wants to look into safe ways to keep the bridge open with the other organisers.
He added: "There would be fewer police around, the barriers would be lower. Although there'd be crowd-control mechanisms in place, they'd be much less intrusive than in the past."