World record sandcastle building in Sandbanks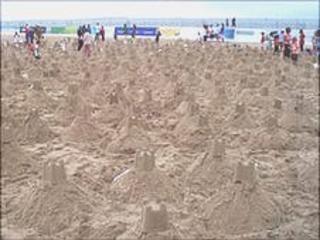 A new record for sandcastle building has been set on Sandbanks Beach.
The Lewis Manning Hospice, in Poole, was attempting to beat the Guinness World Record of building more than 520 sandcastles in one hour.
A team of about 100 people managed to make 539, but the record has yet to be verified by officials.
Those who took part donated about £600 to the voluntary hospice, which provides care to more than 650 local people with life-threatening illnesses.
'Smiles all round'
In order to qualify, each sandcastle had to measure 2ft (60cm) by 2ft (60cm), and have four visible turrets.
Maria Tidy, fundraising manager at the hospice, said: "It took our independent witnesses a good half an hour to go round and measure each sandcastle, and make sure they were all the right size.
"While we waited to hear if we had broken the record the atmosphere was quite tense.
"But when we realised we had there were smiles all round and we were very excited."