Cornwall surf hostel temporarily shut over noisy guests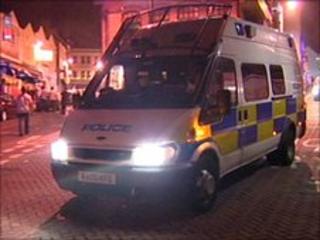 A surf hostel in Newquay has been told to shut temporarily after neighbours complained about residents' rowdiness.
Cornwall Council has issued a 28-day stop notice on Silver Spray Lodge on Trebarwith Crescent.
The council said the site does not have permission to operate as a budget accommodation provider, only as an "ordinary" house.
Lodge owners Michelle and Darren Bathe said: "We are working with the council to try to rectify the situation."
A spokesperson for Cornwall Council said that the lodge had been taking groups of under-18 year-olds and not controlling their behaviour.
'Numerous' complaints
The council added that various departments, as well as the police, had received "numerous" complaints from neighbours about noise from residents.
According to the council a retrospective planning application to operate as a budget accommodation provider had been refused.
It added that if the premises reverts to a bunkhouse when the 28-day temporary stop notice ends, it will look at serving a formal enforcement notice to get the owners to cease trading.
The owners would have the right to appeal or submit a planning application.
In recent years Newquay has become a party hot spot with youngsters from across the UK flocking to the seaside town to celebrate the end of their exams.
However, drunken antics from a number of unaccompanied teenagers has led to a clamp-down on under-age drinking in the resort and some rowdy youngsters being sent home.