Zimbabwe 'blood diamond' activist freed on bail.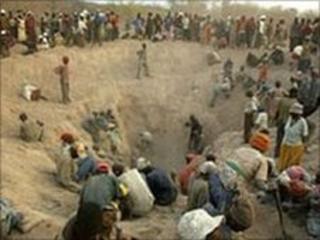 A court in Zimbabwe has freed on bail human rights activist Farai Maguwu, who is accused of providing false information about the diamond trade.
The judge dismissed arguments by state prosecutors that he could interfere with witnesses if he was released.
Mr Maguwu, who was been detained for five weeks, denies the charges.
His arrest has delayed a decision by the body which oversees the trade in "blood diamonds" on whether to allow Zimbabwe to resume sales.
He was taken into custody on 3 June after meeting a representative of the diamond trade body, the Kimberley Process, and was previously denied bail.
The Kimberley Process suspended diamond exports from Zimbabwe last November in response to allegations of atrocities committed by security forces in the Marange diamond fields in the east of the country.
'Top exporter'
Judge Mawadze Gurainesu said the police investigation so far into Mr Maguwu's case had been slow.
"His liberty should not be trampled upon on flimsy reasons," AP quotes the judge as saying.
Mr Maguwu's Centre for Research and Development organisation has published several reports about the alleged abuses at the diamond field in Marange.
The army took over the Marange mines in 2008 and has since been accused of committing widespread abuses there - killing some 200 miners and forcing others to work in the mines.
Campaigners say the diamond money is being used to fund President Robert Mugabe's Zanu-PF party.
Zimbabwe's army has denied the allegations.
In February, President Mugabe threatened to leave the Kimberley Process after Zimbabwe was given until June to prove that its mines were properly run.
The Kimberley Process was set up in 2002 after the diamond trade was accused of fuelling several conflicts in Africa.
The diamonds from the Marange field could see the country become one of the world's top six exporters and generate $1.7bn (£1.1bn) a year.
Zimbabwe has accused the West of trying to hold back its economic development.