Guernsey's charity youth cafe Dee Caf looks for funding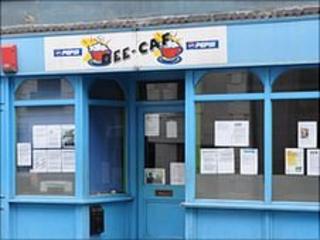 The users of a Guernsey drop in-centre are trying to save it from closing by finding new ways of funding it.
Dee Caf, in the Bordage, has funding until the autumn but is now looking for other ways to pay for its two youth workers and rent.
The charity cafe, funded by donations, has worked with hundreds of young people over more than 10 years.
A group of those who have been helped by the centre are working together to try to ensure it continues.
Rob Batiste, 27, said he had started to visit the cafe when it was first opened, was helped by the cafe and that it had helped him to get work after he had got in trouble with the police.
'Like second home'
Mr Batiste said: "I was in and out of prison, I wasn't going anywhere
"I started going on down to Deecaf and Kim Pattimore was down there and if you needed to talk she'd talk to me and she'll know what mood you're in, so you can go in there in a really, really grumpy mood and she'll make you leave with a smile, she'll do anything for you.
"That place has always been like a second home and if someone has got nowhere to go then head to Deecaf."
James Savident used the St Peter Port centre in the past and turned his life around to become someone who helps others.
He said: "When I first started going down I was a bit of a tearaway, now I'm registered as a youth worker there, a voluntary youth worker.
"It is about giving something back, Kim's helped us through so much so why can't we help her?"