French MPs vote to ban Islamic full veil in public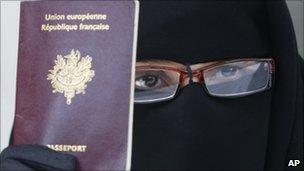 France's lower house of parliament has overwhelmingly approved a bill that would ban wearing the Islamic full veil in public.
There were 335 votes for the bill and only one against in the 557-seat National Assembly.
It must now be ratified by the Senate in September to become law.
The ban has strong public support but critics point out that only a tiny minority of French Muslims wear the full veil.
Many of the opposition Socialists, who originally wanted the ban limited only to public buildings, abstained from voting after coming under pressure from feminist supporters of the bill.
President Nicolas Sarkozy has backed the ban as part of a wider debate on French identity but critics say the government is pandering to far-right voters.
After the vote, Justice Minister Michele Alliot-Marie said it was a victory for democracy and for French values.
"Values of freedom against all the oppressions which try to humiliate individuals; values of equality between men and women, against those who push for inequality and injustice."
The vote is being closely watched in other countries, the BBC's Christian Fraser reports from the French capital Paris.
Spain and Belgium are debating similar legislation, and with such large-scale immigration in the past 20 or 30 years, identity has become a popular theme across Europe, our correspondent says.
The bill would make it illegal to wear garments such as the niqab or burka, which incorporate a full-face veil, anywhere in public.
It envisages fines of 150 euros (£119) for women who break the law and 30,000 euros and a one-year jail term for men who force their wives to wear the burka.
The niqab and burka are widely seen in France as threats to women's rights and the secular nature of the state.
"Democracy thrives when it is open-faced," Ms Alliot-Marie told the National Assembly when she presented the bill last week.
She stressed the bill, which makes no reference to Islam or veils, was not aimed at "stigmatising or singling out a religion".
Berengere Poletti, an MP from Mr Sarkozy's centre-right UMP party, said women in full veils wore "a sign of alienation on their faces" and had to be "liberated".
Andre Gerin of the Communist opposition compared the veil to "a walking coffin, a muzzle".
The bill is also seen as a touchstone for the Sarkozy administration's policy of integration. It is grappling with disaffected immigrant communities as it seeks to prevent a repeat of the mass unrest of 2005 on run-down French housing estates.
But critics point to government studies showing that many women do not fit the stereotype of marginalised, oppressed women.
There are estimated to be only about 2,000 women wearing the full veil in France though the bill is opposed by many of France's five million Muslims.
Mohammed Moussaoui, the head of the French Council of the Muslim Faith, a government advisory body, has supported taking steps to discourage women from wearing the full veil but has said a legal ban would stigmatise a vulnerable group.
Jean Glavany, a Socialist MP, said he opposed the ban on the grounds that it was "nothing more than the fear of those who are different, who come from abroad, who aren't like us, who don't share our values".
The Council of State, France's highest administrative body, warned in March that the law could be found unconstitutional.
If the bill passes the Senate in September, it will be sent immediately to France's Constitutional Council watchdog for a ruling.
Another challenge is possible at the European Court of Human Rights in Strasbourg, where decisions are binding.
In another development, a French businessman, Rachid Nekkaz, said he would set up a 1m-euro fund to help women pay fines imposed under the new law.
A ban in the street would violate constitutional principles, he argued.
Related Internet Links
The BBC is not responsible for the content of external sites.