Dumfries 'thrilled' by Queen's visit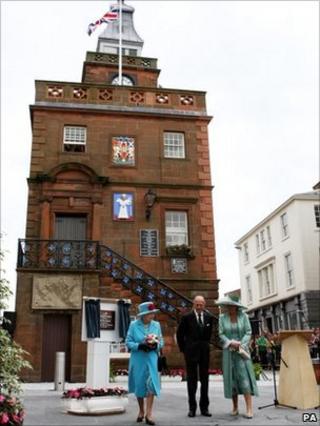 The Queen and the Duke of Edinburgh have been in Dumfries and Galloway on a series of public engagements.
Their programme started in Dumfries at the new plainstanes gathering place at the foot of the historic Midsteeple.
The Queen unveiled a commemorative plaque before going on a short tour.
Dumfries and Galloway Council chief executive Gavin Stevenson said the region was "thrilled" to the welcome the Queen and called it a "major coup" for the area.
Among those who met the royal party was a seven-week-old baby.
Laura Cowan took her daughter Lilly to meet the Queen as she opened a new public space in Dumfries town centre.
She said: "It was lovely to see the Queen, my mother and I thought we would come down as she might not be back.
"I brought Lilly, who has now had her first royal visitor.
"The Queen asked me how old she was - it was great to meet her."
Mr Stevenson said it was a special day for the region to greet the royal visitors.
'Major coup'
He said: "We're thrilled to welcome the Queen.
"Her last visit, I believe, was in 1975 when she opened the local hospital - it really is a major coup.
"The thing that does make Dumfries and Galloway special are its communities and that's really what the Queen is here celebrating today."
After the Midsteeple ceremony, the royal party moved on to a civic reception at the Easterbrook Hall on the Crichton campus.
Heavy rain began to fall when the Queen reached the Wallets Mart in Castle Douglas.
Retired farmer Andrew Dunlop, who hosted the display of local cattle breeds, told the royal visitor: "We have to apologise for the weather but it is days like this that make the country nice and green."
Wallets Marts managing director Robin Anderson added: "We're absolutely delighted that the Queen has chosen to come to Castle Douglas.
"It's the first time she has been here and to be the chosen venue is a tremendous honour."
During the Queen's visit to Castle Douglas, the Duke of Edinburgh travelled to the Howies sawmill in Dalbeattie.
They were scheduled to finish their tour of the region in Kirkcudbright.