Manchester First bus firm 'refused to help man'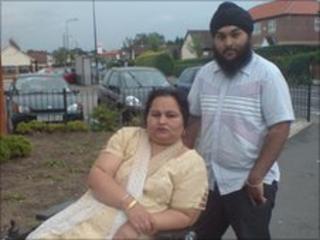 A second wheelchair user has claimed that he was refused help by a Manchester First bus driver.
Barry Carr, of Greenfield, Oldham, said the driver swore and refused to lower a ramp on the 180 service from Stephenson Square, Manchester, on 22 March.
The 62-year-old received a written apology from First stating that "action deemed necessary" would be taken.
First has also issued an apology to Renu Duggal, who was refused help on 1 July on the 135 service at Piccadilly.
Her son Arjun filmed a driver of the 135 bendy bus sitting at the wheel, hiding his head with a timetable after declining to lower the ramp at Piccadilly.
'Very rare'
Mr Carr, who has arthritis of the spine, said: "I am totally reliant on public transport and this man frightened me and upset me.
"I keep having to tell myself that 99% of people are good and not to let it keep on disturbing me."
A First spokesman said: "Every day internationally we carry millions of passengers and a number of those passengers are wheelchair users.
"Just about all of those wheelchair passengers are treated with due kindness and sensitivity.
"These occasions are very rare indeed and every time we investigate them rigorously."