Doncaster's new performance venue unveiled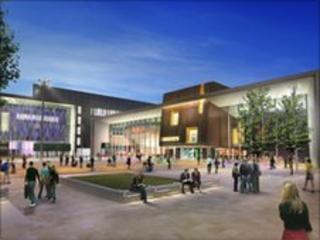 Designs for a £22.5m performance venue in Doncaster's new civic and cultural quarter have been unveiled.
The building will be a focal point in the new public square which is part of a regeneration of a 25-acre site on the south side of the town centre.
The venue will house a 600-seat auditorium, dance and drama studios, meeting rooms and a bar and cafe.
Construction is scheduled to begin in 2011 with the venue opening its doors in spring 2013.
Doncaster Council said performances would vary from live music and family entertainment to contemporary dance and drama.
'Pivotal role'
Jonathan Wood, the council's cabinet member for business and regeneration, said: "The venue will play a pivotal role in the Doncaster's new civic and cultural quarter and with a fair wind will raise the profile of the town on a regional and national level.
"It will boost the local economy by driving growth in the creative industries sector and seeks to deliver physical regeneration in the town centre.
"These economic, cultural and leisure benefits will cascade right across the borough."
Once planning consent has been granted, Muse Developments, the council's development partner, will start the tender process to select a building contractor.