Trident fishing boat widow in inquiry attack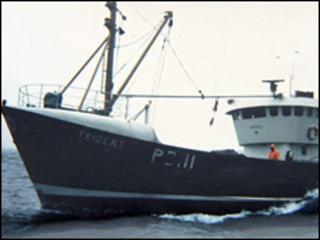 A Peterhead woman widowed by the 1974 Trident fishing disaster has attacked statements made in closing submissions to an inquiry into its sinking.
The QC for the Advocate General, Ailsa Wilson, said the probable cause of the incident, in which its seven crew died, was a sudden catastrophic capsize.
She added that there was no reliable evidence the loss was caused by deficiencies in design stability.
But widow Jeannie Ritchie said she was disgusted by the submissions.
She told BBC Scotland: "If it wasn't that seven men died, I would find it laughable.
"It is an absolute disgrace, but this is the scandal of the Trident. The Trident sank because she was grossly unstable, the same as her sister ship, the Silver Lining."
The trawler was heading home to Peterhead when it sank off Caithness in October 1974.
The original inquiry in 1975 concluded the trawler had been hit by a succession of waves.
A fresh inquiry was ordered when the wreck of the Trident was discovered off Wick in 2001.
The inquiry in Aberdeen's city chambers is expected to conclude on 15 July.