London 2012 Olympics in the back garden
On the edge of the 2012 Olympic site in Stratford is a 22-storey residential block. BBC London's Ed Davey met the residents watching the Olympics take shape far below - and took a deep breath before clambering on to its roof.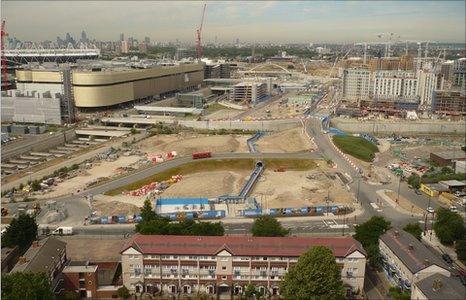 Piles of mud are moved mysteriously from place to place, lift shafts the size of houses are sunk deep into the earth and almost 10,000 workers beaver around below.
Meanwhile, from the 22-storey Holden Point tower block, dozens of east London residents watch the Olympic Games slowly emerge from Europe's biggest construction site.
The looming building in Newham provides the best vantage point to survey the plot of land on which the 2012 tournament will take place.
From their lofty homes, Londoners have been able to observe the £8bn transformation of 2.5 sq km (one sq mile) from contaminated wasteland into an Olympic Park.
Derek Southern, 69, retired, said: "It's like watching a phoenix coming out of the ashes.
"You get used to seeing the site looking the same. Then you look out of your window and the next day and think 'wow' - because it will have completely changed."
Before work on the site began in 2007 it was home to sprawling industrial yards which had contaminated the soil with oil and cyanide.
Some 1.3 million tonnes of earth have since been washed clean and reused, while the Olympic Stadium and Athletes' Village have taken shape.
Ian Davis, 62, who lives in the 18th storey of Holden Point, said: "It all happened very fast.
"The Athletes' Village seems to get bigger day by day."
He continued: "The one thing I could never understand is why they spend so much time moving piles of mud around.
"They would move a pile of mud from one side of the site to the other.
"Then the next thing they would move it back again!"
Humble piles of mud they may be - but they have been enough to entice VIPs from across the world.
Newham Council employee Jean Jeffrey, 54, takes dignitaries up to a viewing platform the authority has built on top of the tower block.
She said: "People started coming here from all over the world and they were getting very excited - just from looking at piles of mud.
"When I first arrived it was wasteland out there. It was somewhere you'd walk past and take no notice of.
Admittedly there is still a lot of mud to be seen. But the Olympic Delivery Authority says 4,000 trees and 300,000 "wetland plants" will soon adorn it.
From high above it is easy to see the finished park taking shape.
Beyond the site the major landmarks of London can be seen - among them Canary Wharf, St Paul's Cathedral and the roof of Arsenal's Emirates Stadium, which resembles a silver flying saucer.
Not all Newham residents are so enamoured with the works.
"It's going to be lovely when it's finished but it's been hell for the last four years," said one elderly lady who did not give her name.
Complaining that the scale of the site has left her estate "stranded", she added, "we are on an island".
But for many living in the area the initial elation of winning the bid has turned to satisfaction with the neighbourhood's regeneration.
Holden Point resident Ann Lyon, 44, a sheltered housing officer, said: "When we won the bid it was a situation for hugging strangers and throwing myself at people.
"I have seen pictures of myself hugging people who I don't even know.
"We all talk about how the site is changing - someone will notice something new and then I go and look at it from my window. "
Ms Lyon, who has lived in the area for more than two decades, added: "My dad was worried about me moving to Stratford - it had a bad reputation.
"It was already getting better and the Olympics have improved it more."
Related Internet Links
The BBC is not responsible for the content of external sites.