Acharacle pupils urge closure of mothballed primary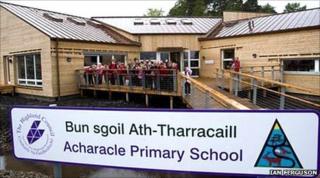 Pupils attending Scotland's "greenest school" have backed the planned closure of an older nearby primary.
Children at Acharacle in Ardnamurchan, Lochaber, said shutting Glenborrodale would increase their chances of making friends in the wider area.
Highland Council consulted on plans to permanently close the mothballed primary.
The new school at Acharacle was opened last year and boasts a range of eco-friendly features.
It has been designed to be heated by warmth from children, staff and computers.
Highland Council described it as the Scotland's first sustainable school.
Glenborrodale has had no pupils for nine years. Its permanent closure is among proposals on the futures of a number of rural primaries.
Comments and opinions gathered on the plans have been published.
People can examine the details of each of the consultations by going to Highland Council's website and going to its special section.
Members of the public who want to comment on the consultation reports can either e-mail ecsadmin@highland.gov.uk or write to Ron MacKenzie, Head of Support Services, Education Culture & Sport, The Highland Council, Glenurquhart Road, Inverness IV3 5NX.