Safety fears over decorative graves in Cumbria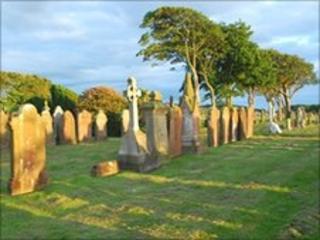 Council bosses in Cumbria have banned the creation of decorative borders around graves after a visitor was hurt.
Allerdale Council, which manages seven cemeteries, has now written to families asking that any work already carried out be reversed.
A spokesman said a visitor was injured when grass around a grave was dug up in preparation for a decorative border.
The authority said its staff would carry out work on any grave which still posed a risk after the end of July.
The council manages cemeteries in Workington, Flimby, Silloth, Maryport, Dearham, Brigham and Cockermouth.
Alison Miller, the council's customer service manager, said there was concern that more people may be hurt.
She said: "We understand that some people may want to pay tribute to their loved ones by tending to their graves.
"However, visitors to our cemeteries can be elderly, visually-impaired or unsteady on their feet and could have a nasty fall if they lost their footing on one of these trenches or boundaries.
"Therefore we are asking anyone who has installed such a border around a grave to return the grass to its original state in the interests of safety for all cemetery visitors.
"If members of the public are unable to carry out the work themselves by the end of July then the council's grounds maintenance team will take care of it for them."