Prostitute tells of surviving Crossbow Cannibal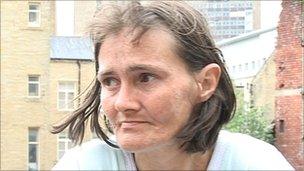 A prostitute who had sex with the "crossbow cannibal" every week for four years says she knows how lucky she is to still be alive.
Lisa Thompson says Stephen Griffiths - who has pleaded guilty to murdering three sex workers in Bradford - showed her violent internet pornography of women being attacked, strangled her and tried to stop her leaving his flat.
"I pray to God every day," says Lisa, 37. "I'm thankful that was not me, I really am.
"It could so easily have been me, couldn't it? I think myself very lucky.
"The police say I'm the only one who got out of there alive in the last 12 months. It could have been very different."
Griffiths has admitted murdering Suzanne Blamires, 36, Shelley Armitage, 31, and Susan Rushworth, 43, between June of last year and May 2010.
Lisa said that when Ms Rushworth, a former schoolfriend of hers, went missing in June 2009, Griffiths asked her if Ms Rushworth's family, particularly her mother and daughter, were upset.
"I found it a bit strange," says Lisa. "When Shelley vanished... he said she deserved what she got because she robbed everybody."
The Bradford sex worker said Griffiths, 40, was a nice guy when she met him in the city's red light district four years ago.
She would go to his obsessively tidy flat once or twice a week for £40 sex and to do drugs.
But about a year ago, she says loner Griffiths changed his appearance and started shouting at sex workers.
"He shaved all his hair off and his attitude changed."
She added that she thought a prostitute had stolen things from Griffiths and that after that he started to call them all abusive names.
Griffiths' large frame and the Goth look he had at one time - with long hair tied back, sunglasses and a floor-length leather coat - intimidated women.
But to Lisa he was originally a gentle giant so obsessed with cleanliness he covered most of his furniture with plastic sheeting.
"He had a really nice flat, it was absolutely spotless," she says.
"But everything was covered in plastic. He said it was because it was new furniture and he didn't want to get it damaged. Even his carpet had plastic on it. Most places in his flat were covered."
"He was obsessive," says Lisa. "You had to take your shoes off. If he made a drink you had to have it on a mat."
Griffiths smoked crack cocaine and marijuana, and injected amphetamines, often with sex workers, in his flat.
He also drank whiskey, brandy, rum and lager heavily.
He had two lizards, one a bearded dragon, which he walked on leads and fed mice from a pet shop, witnessed by Lisa.
"When he got drunk or had a bit of smoke he got a bit teary-eyed or emotional, like something had happened in his past," says Lisa.
"He would try to say something, but just started crying and shut up. He'd get annoyed and kick you out of his flat."
Although Griffiths pulled Lisa's hair and pinned her on the bed, leaving bruises, she wasn't concerned for her safety until two months before his arrest.
It was then that he started to show her even more violent internet pornography.
"I was shocked, I actually threw up," she says. "He was getting a kick out of it."
Lisa says that Griffiths then got violent, and she wanted to leave his flat.
"I was trying to get out of his flat, it got a bit forceful. He had his hands around my neck.
"Luckily, I managed to get away. I got dressed and left.
"I said I wasn't interested any more. When I next saw him he asked why I hadn't been around.
"I said 'I told you the last time I saw you'. He started calling me names and shouting after me down the road. I just kept on walking."
"He said he was doing a criminology course," says Lisa. "He said it's amazing what people can get away with.
"He said he could do anything to me when I was in his flat. It did unnerve me, because he could do absolutely anything."
She adds: "I hope he gets a long term. I hope he's safely in jail after what he did.
"The only thing he could do now is let the families know where the bodies are. But he likes the upper hand, he'll take that to the grave with him.
"I feel physically sick about what he's done. Jail's too good for him.
"He's very intelligent, he knows right from wrong, so he knew what he was doing.
"He deserves everything he gets, and everything that's coming to him."