Edinburgh braced for rat run race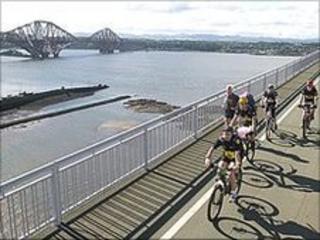 Up to 600 elite adventure racers and amateur sporting enthusiasts are to descend on Edinburgh for the city's annual rat race.
The competitors will tackle challenges including navigation, endurance, mental agility, running, climbing, mountain biking, kayaking and abseiling.
The route of the Edinburgh Rat Race is kept confidential until the event starts on Saturday.
An after-work Fun-Run-In-Your-Work-Clothes will be held on Friday.
Up to 100 men and women will run for four miles from West Princes Street Gardens to the Castle Esplanade in their work clothes on Friday evening.
Jim Mee, founder of the Rat Race Urban Adventure Series, said: "Edinburgh is always a great place for us to race.
"It's a beautiful city - the stunning architecture, elaborate streets and rugged and diverse terrain and man-made obstacles make it an ideal location for urban adventure racing."
Previous challenges during the main event have included abseiling from the top of Murrayfield Stadium, crossing Loanhead Viaduct, kayaking through the River Forth and a trolley dash round a shopping centre obstacle course.
Steve Cardownie, Edinburgh City Council's festivals and events champion, said: "I am pleased that Edinburgh is once again playing host to this extremely challenging and exciting race.
"The race will showcase some really iconic spots, demonstrating that Edinburgh boasts a natural and man-made environment fit for adventure."