Hunt for man who attacked woman in Hertfordshire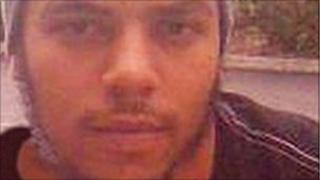 Hertfordshire police are looking for a man who throttled an 18-year-old woman to the point of unconsciousness.
Detectives want to speak to Shyan Myrie, 20, who is also accused of slashing the woman's face and stabbing her legs.
The attack took place at 1450 BST on 30 May when Mr Myrie met the woman at an address in Hoddesdon.
Mr Myrie was last seen outside the Barclays Bank in the town minutes after the attack.
He is known to have links to the Chadwell Heath, Ilford, Redbridge and East Ham areas of London.
Det Insp Gerry McDonald said: "We are determined to catch this man and are renewing our appeals to anyone who knows of him, his whereabouts or if you have seen him out on the street to please get in contact with us.
"This man has committed a vicious attack and does not deserve any protection."
The victim, who does not want to be identified, said: "I was badly attacked and this has affected my whole life.
"If you know where he is please tell the police as he does not deserve any protection for what he has done to me."
Crimestoppers has also put up a reward of up to £500 for anyone who provides information leading to Mr Myrie's arrest and charge.