Bank survey says NI private sector facing faster falls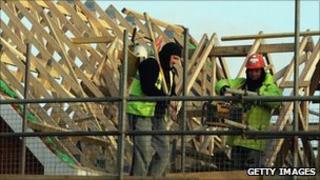 Private sector activity in Northern Ireland is continuing to fall rapidly despite a recovery in the wider UK, a report by the Ulster Bank has said.
The latest monthly Purchasing Managers Index (PMI) suggests the economy is struggling to recover.
Faster decline in new orders, falling staffing levels and costlier raw materials were factors, it found.
The bank's chief economist said it showed the "growing divergence between the NI and UK economies".
"The UK as a whole posted its 14th successive monthly rise in business activity in June whereas Northern Ireland has still not recorded growth since November 2007," Richard Ramsey said.
While UK firms overall reported a further rise in employment levels and robust growth in new orders in June, Northern Ireland businesses saw the rate of decline accelerate in both these areas.
'Extremely weak state'
Mr Ramsey said manufacturing continued to perform best, particularly firms exporting further afield, a trend he predicts will continue.
"What is concerning, however, is the accelerated fall in new orders and employment levels in the services and construction sectors.
"New orders in the services sector and construction industry are falling at their sharpest rates since March 2009 and June 2009 respectively.
"These two sectors are already in an extremely weak state and they are the most exposed to public expenditure," Mr Ramsey continued.
"Given the sheer scale of the cuts coming down the line and Northern Ireland's over-reliance on the public sector, economists may be tempted to throw a blanket over their crystal balls for now. What is clear though is that significant job losses in these sectors are inevitable."
The level of new business taken by Northern Ireland private sector firms continued to fall in June, decreasing at a substantial rate that was the fastest in five months.
Survey respondents said there was a much lower market demand, with economic uncertainty curbing business and consumer spending.
Mr Ramsey said the latest results suggest that it is " debateable" whether Northern Ireland actually exited recession in the first place.
"Given the absence of a meaningful economic recovery during the first half of 2010, unlike the UK, it now looks increasingly likely that Northern Ireland will see a further contraction in economic growth, albeit marginal, in 2010."