Capital projects are 'protected', says minister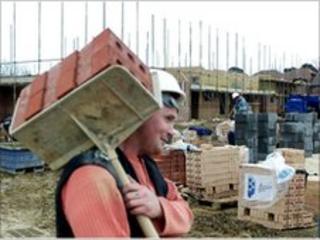 The Welsh Assembly Government says it will protect Welsh capital projects from £49m of cuts required by the UK government this year.
Business and budget minister Jane Hutt said major schools, hospital and affordable housing projects would be protected.
She said her government would take on "as much as we can" of £113m of revenue spending cuts in this financial year.
The Welsh government could defer cuts under arrangements with Westminister.
As part of £6.2 billion of cuts announced by the UK Treasury, the Welsh government must find £162.5m in savings from this year's budget.
The option to defer the cuts had been offered by the UK government.
But with bigger cuts coming in 2011-12, they might have proved more difficult to make in future.
Business and Budget Minister Jane Hutt told assembly members: "After very careful consideration, we have decided to take as much as we can of the 2010-11 budget reductions this year - without damaging frontline services, without taking money from our key priorities and without taking risks with the fragile economic recovery."
Ms Hutt said putting off reductions to next year "would not be the right thing to do".
She said: "It would mean that the challenge for 2011-12 would be even greater. This is not in the best interests of Wales and not what the people of Wales would expect of us."
She said her government would not be following the recent example of the UK Government in cancelling major capital projects because this would be damaging to jobs and services as well as economic recovery.
She said the government would use End of Year Flexibility funding to cover the £49 million reduction it faced in its capital programme.
Ms Hutt said: "This means we can continue to deliver our ambitious programme of investment in our schools, hospitals, housing projects and other key areas.
"Such projects include a range of affordable housing, adapations to homes for people with disabilities, Extracare housing for older people, hostels for the homeless and women's refuges."
There had been uncertainty about whether the assembly government would opt to defer the savings.
The decision to cut now wherever possible has perhaps been made easier by the Treasury announcement, earlier this month, that it would give Welsh ministers access to around £200m of money not spent in earlier years.
That money is known as "End of Year Flexibility" (EYF) cash and comprises unspent cash from previous assembly government budgets.
Ms Hutt said "solid progress" is being made in identifiying revenue savings and that the government would review the situation regularly.
She said a final decision would be made in November about whether to use reserves or "End of Year Flexibility" funds to protect revenue spending from the £113m cut.
Conservative spokesman Nick Ramsay said his group "broadly welcomed" the decision.
He said: "I am relieved that the Minister has finally reached a decision over the option to defer spending cuts.
"While the Minister has been dithering over the Chancellor's offer, there has been great uncertainty for people and businesses across Wales.
"Now that we know that the Assembly Government will not be deferring the cuts, a new set of questions have been raised and we need to know more urgently than ever where the axe will fall on Assembly spending."
Despite accessing "End of Year Flexibility" funds, First Minister Carwyn Jones remains adamant that the public sector cuts his administration must make remain "potentially very difficult".
First Minister Carwyn Jones told reporters: "We believe that the Chancellor's Budget has gone too far in terms of reducing the deficit.
"Its a question of the depth and the speed of that deficit reduction that we don't agree with."
Mr Jones said he would be travelling across Wales to talk to public sector workers and record their views about where savings could be made.
"I want the views of those who work delivering public services, not those who manage them," he said.
Ms Hutt will join Finance Ministers from Scotland and Northern Ireland at a meeting with Treasury Chief Secretary Danny Alexander on Thursday.