Newcastle Council to discuss Chatterley Valley plan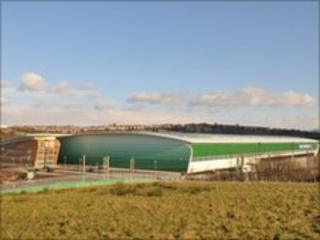 Planners will discuss expanding a Staffordshire industrial park, even though a £50m warehouse remains empty.
Newcastle Borough Council is to look into an application for Chatterley Valley, near Newcastle-under-Lyme.
The G Park Blue Planet warehouse features a range of award-winning "eco-features" but has been empty since opening in 2009.
Development bosses believe jobs will be created at the mixed use site as the economy improves.
The application is to renew existing planning permission for offices, light industry and leisure at the park.
'Holding our nerve'
Neil Clifton, executive director for regeneration at Newcastle Council, said it would be wrong to believe that because G Park was still empty it was a mistake to expand the site.
"It's a question of holding our nerve and recognising that this site forms part of a long-term plan for Staffordshire.
"Developers and investors know what the conditions are like in the marketplace - it's about taking a longer-term view.
"It's difficult to crystal-ball gaze what the conditions of the market will be in 10 years, there's potentially a range of things that could happen."
Chatterley Valley is a joint venture between Advantage West Midlands, the North Staffordshire Regeneration Zone, Newcastle Borough Council, Stoke-on-Trent City Council and Staffordshire County Council.
The first phase of the former colliery was a £23m transformation programme in 2006.
Further phases of work will see a total of 70 hectares of brownfield land transformed over the next decade.