Working in the 80s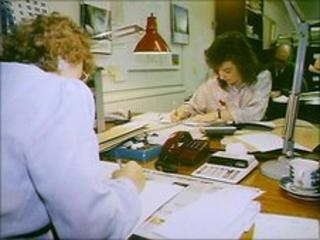 The BBC's Kirsty Young is presenting a new series about the British at work. We would like to hear your experiences of what working life was like in the 1980s.
This was a decade that saw the personal computer become a staple of the office, the rise of career women and the emergence of the working lunch and the filofax.
Did you work in the 1980s? How did technology change your workplace? Were you caught up in industrial unrest? Were you a manager in a British industry trying to compete in a fast changing world? Did you work in the City during the Big Bang? Can you remember what the workplace was like; the office romances, commuter chaos, the shoulder pads and red braces? Maybe you set up your own business in the 80s? Did it weather the recession of 1992?
Perhaps you worked in heavy industry and manufacturing and suddenly found your job under threat. Did you experience unemployment or did you have to retrain?
We are looking for the full range of working experiences during the 1980s.